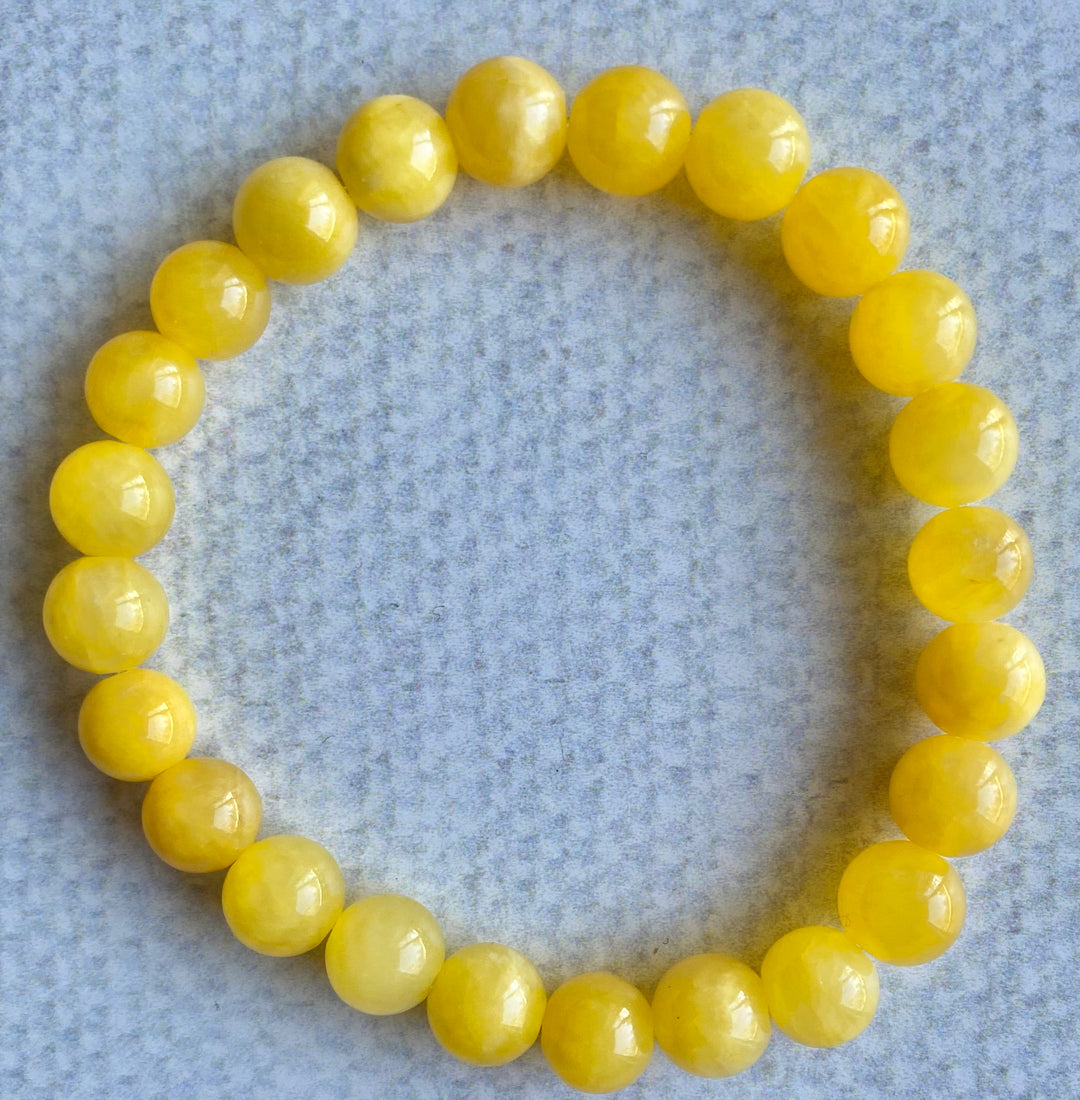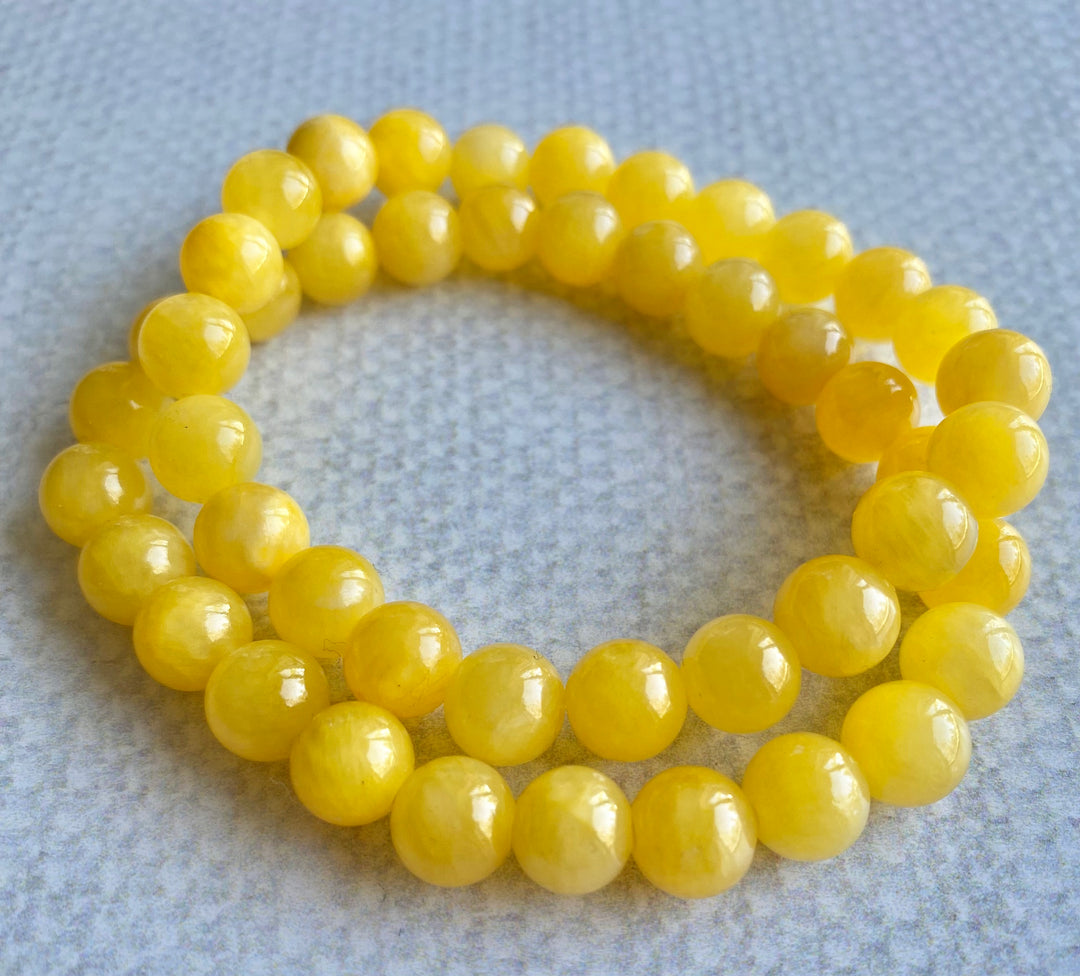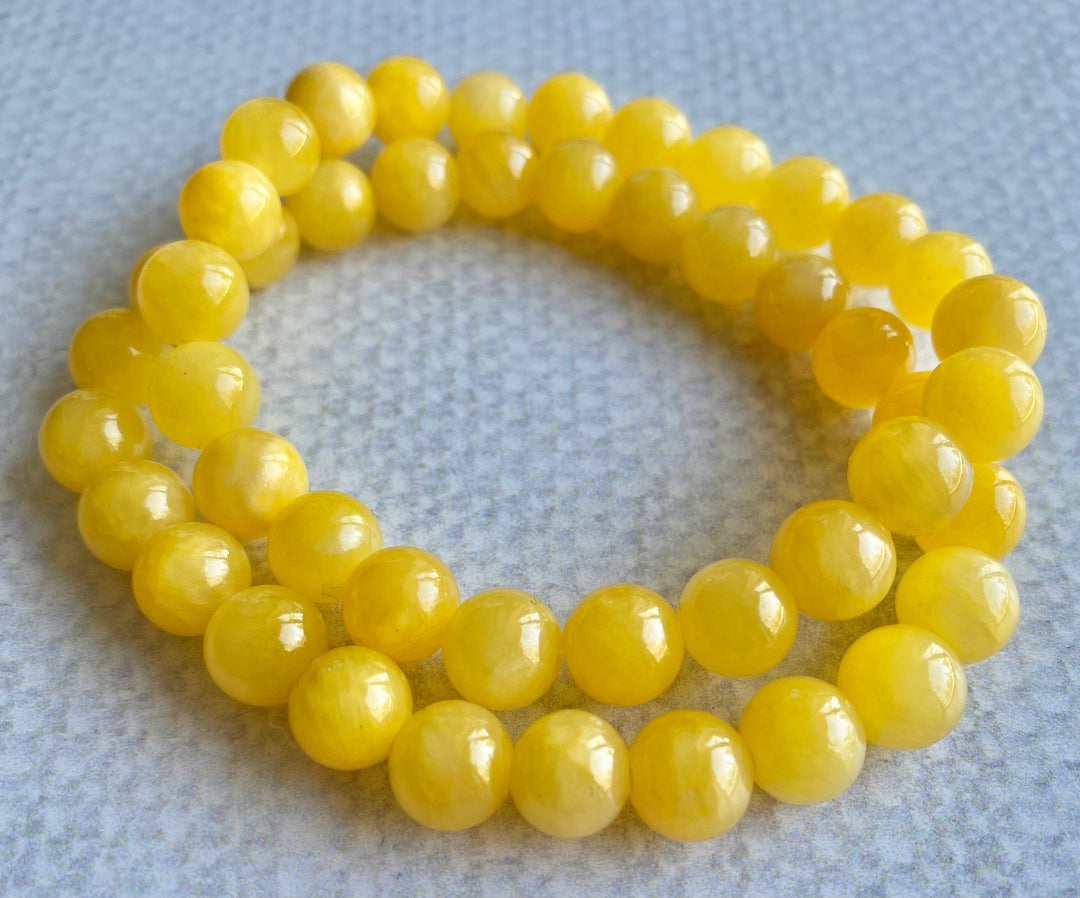 Yellow Jade
---
In stock, ready to ship

Inventory on the way
The stunning yellow jade gemstone, known for its vibrant and cheerful energy. Each bead of yellow jade is carefully selected to ensure its unique charm and natural beauty, making every bracelet one-of-a-kind.
Yellow jade is a revered crystal known for its multitude of benefits. It is commonly associated with abundance, prosperity, and good fortune. This vibrant stone is believed to attract wealth and success, making it a popular choice for those seeking financial stability and growth. Yellow jade is also known to bring joy, happiness, and positive energy into one's life, helping to dispel negativity and promote a sense of inner peace. It is said to enhance mental clarity, focus, and decision-making abilities, allowing individuals to make wise choices and find practical solutions to problems. Emotionally, yellow jade is thought to promote self-confidence, self-esteem, and self-worth, encouraging individuals to embrace their true potential and achieve personal growth. Additionally, yellow jade is believed to have a gentle and nurturing energy, promoting harmonious relationships and fostering feelings of love and compassion. Overall, yellow jade is cherished for its ability to attract abundance, bring happiness, enhance mental clarity, and promote emotional well-being.

The brilliant yellow hues of the jade beads exude warmth and joy, bringing a sunny disposition wherever you go. As you wear this bracelet, you'll find yourself immersed in its positive aura, uplifting your spirit and attracting good fortune along your journey.

Whether you're looking to add a vibrant touch to your attire or seeking a thoughtful gift for a loved one, this yellow jade bracelet is a perfect choice. Embrace the beauty and positivity it radiates, and let it become a symbol of your inner strength and optimism.

We ship orders within 24-48 business hours, however, it may take longer depending on volume or if you've placed a custom order. We do not offer expedited shipping at this time. A tracking number will be sent to you via email.
LoveWaisted is not responsible for any stolen or lost packages once your order has been shipped. Customers must provide correct information prior to shipment. Customers are responsible for packages upon delivery. Once your package is accepted by USPS, LoveWaisted is no longer responsible for the package. All sales are final. 
We only ship Monday-Friday, excluding holidays. Any orders received after 5:00 pm EST will not start processing until the next business day.
Bracelets are sold individually unless it's a stack. 7.5" fits most wrist comfortably. Please measure your wrist before ordering.  Please be aware that due to the unique and handmade nature of each product, colors, shapes, and bead sizes may vary slightly from the photos and descriptions.