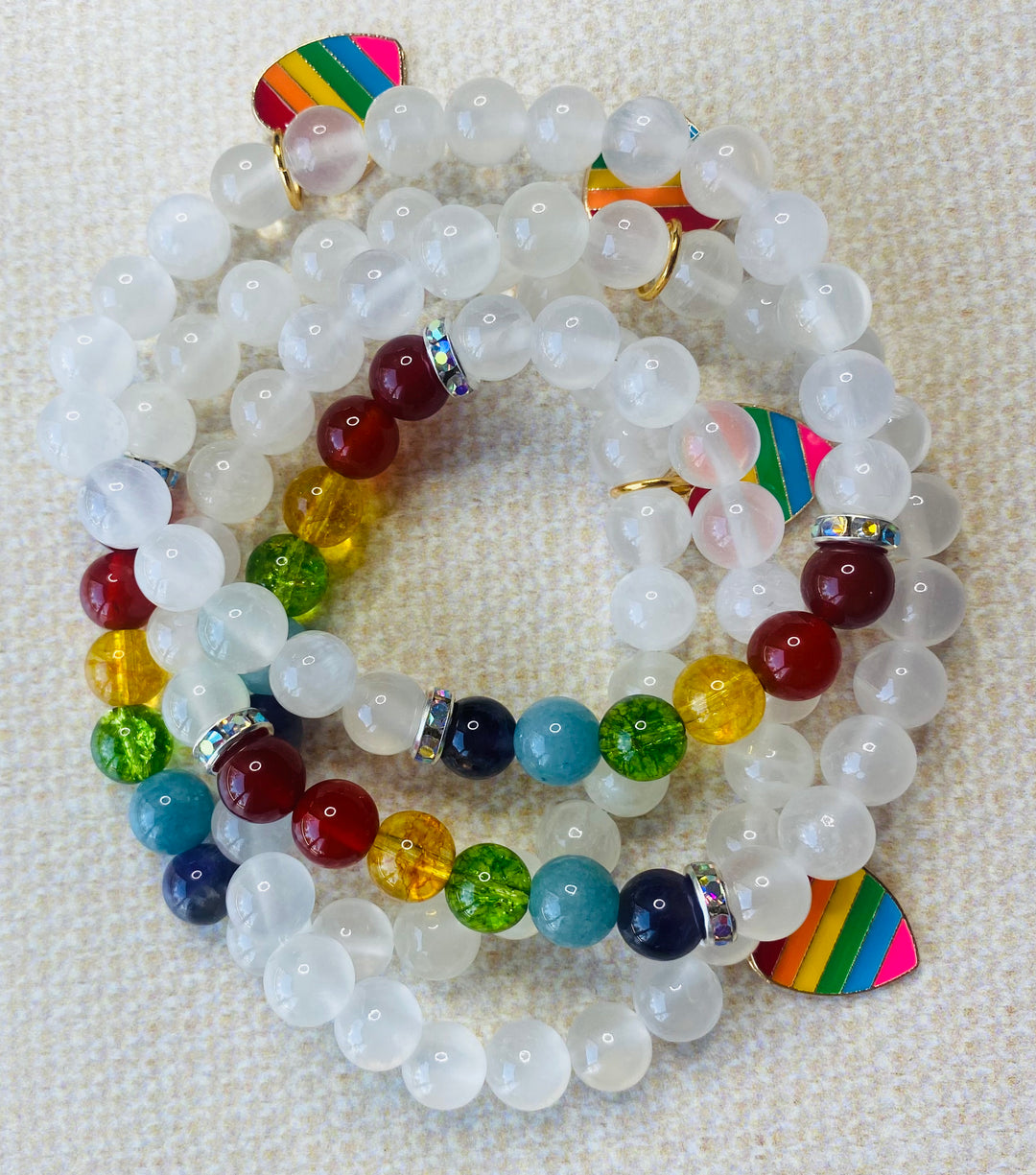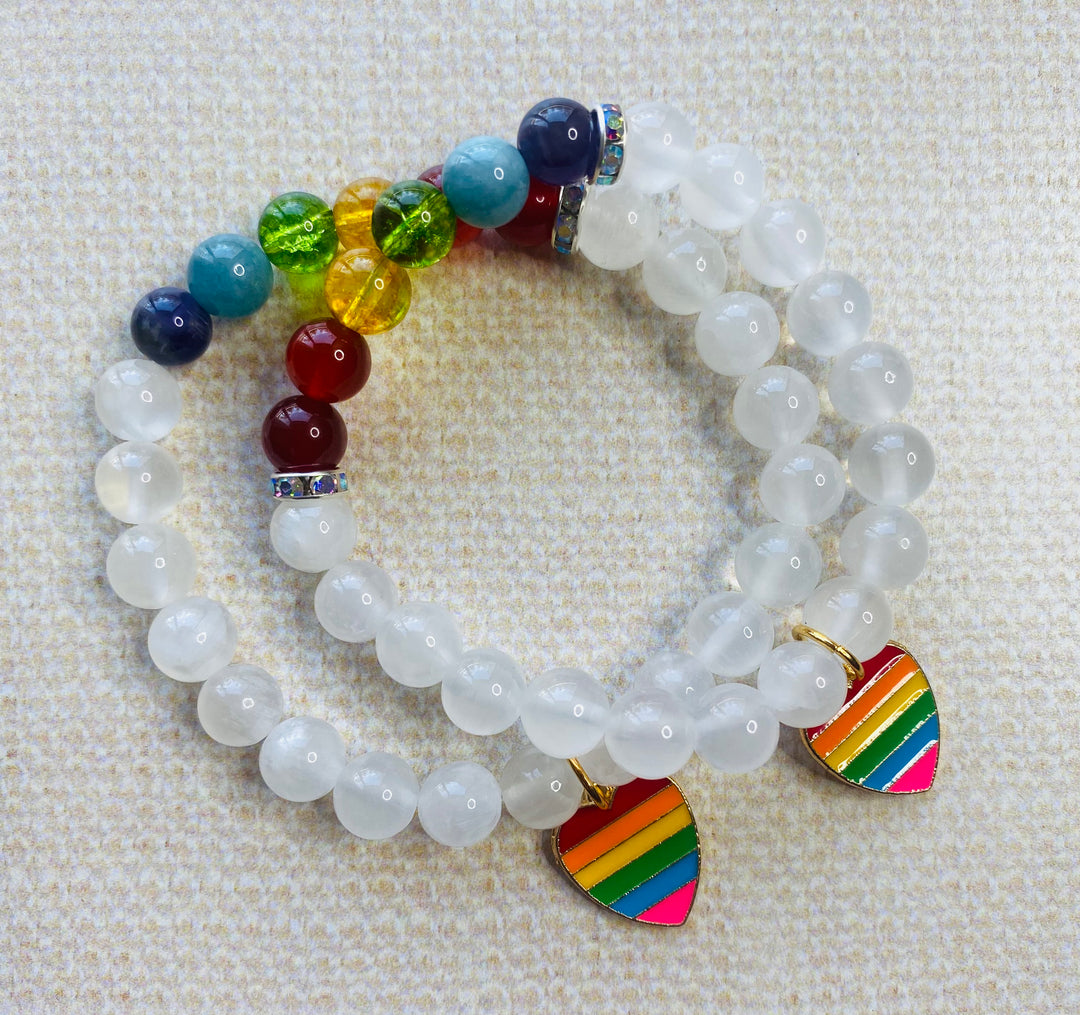 Taste The Rainbow Bracelet
---
Low stock - 1 item left

Inventory on the way
This bracelet is made with all natural high quality beads: 
Selenite was named after Selene the Greek goddess of the Moon, meaning literally the stone of the Moon. While many ancient cultures named several goddesses to symbolize the moon, the Greeks believed Selene to be the Moon itself. She, like her crystal, embodies tranquility, blessing, love, and light. Selenite inspires a profound peace and carries a fine, high frequency and intensity of energy that surpasses nearly all stones for opening, clearing, and activating the Crown and Higher Crown Chakras. It is ideal for meditation and spiritual work.
Red Agate instills a newfound sense of enthusiasm and helps wearers rediscover themselves while finding the inner power needed to conquer any day with confidence. Its meaning is tied to passion, self-love, and perseverance, making it a valuable stone for those caught up in a constant state of refusal.
Blue Chalcedony has a very calming energy. This is the perfect stone for people who tend to get frazzled easily or have difficulty relaxing. If you find yourself constantly stressed out, Blue Chalcedony can help you to find a sense of inner peace. It's also known as the "speaker stone" and is associated with the Throat Chakra, which is the chakra of communication and self-expression. Blue Chalcedony can help to promote honest and open communication from the heart. 
Green Peridot helps to release negative emotions such as jealousy, anger, and resentment, promoting a more positive and optimistic outlook. It can also help to reduce stress and anxiety and bring a sense of peace and calm to the wearer. Peridot is associated with the heart chakra and can help stimulate creativity and imagination, making it a popular choice among artists, writers, and other creative individuals.
Citrine also known as the "Stone of Abundance", attracts wealth, prosperity, and success. Encourages joy and optimism which gives you the motivation you need to feel courageous and accomplish your dreams. 
Carnelian is said to  embody the fiery energy of the sun. It's used to increase vitality and energy, and to promote courage and self-confidence. With its vibrant orange hue, Carnelian stimulates the creative imagination, helping to overcome creative blocks and promoting new ideas and inspiration. Carnelian is connected to the sacral chakra, which governs our emotions, creativity, and sexuality. By activating and balancing this energy center, Carnelian helps to release negative emotions and increase feelings of joy, passion, and pleasure.
Amethysts is connected to the third eye and crown chakras. The purple colour to reddish-purple hues of amethyst has long been a symbol of peace, cleansing and calming energy. The meaning of amethyst is attached to serenity, understanding, trust and grace. Amethyst is believed to protect the bearer against negative energies. Some believe that the stone's calming properties produce soothing dreams by making us more in tune with the divine. The stone also brings clarity and peacefulness to the waking mind, as they help the mind flow freely in both the mental and metaphysical dimensions.
We ship orders within 24-48 business hours, however, it may take longer depending on volume or if you've placed a custom order. We do not offer expedited shipping at this time. A tracking number will be sent to you via email.
LoveWaisted is not responsible for any stolen or lost packages once your order has been shipped. Customers must provide correct information prior to shipment. Customers are responsible for packages upon delivery. Once your package is accepted by USPS, LoveWaisted is no longer responsible for the package. All sales are final. 
We only ship Monday-Friday, excluding holidays. Any orders received after 5:00 pm EST will not start processing until the next business day.
Bracelets are sold individually unless it's a stack. 7.5" fits most wrist comfortably. Please measure your wrist before ordering.  Please be aware that due to the unique and handmade nature of each product, colors, shapes, and bead sizes may vary slightly from the photos and descriptions.