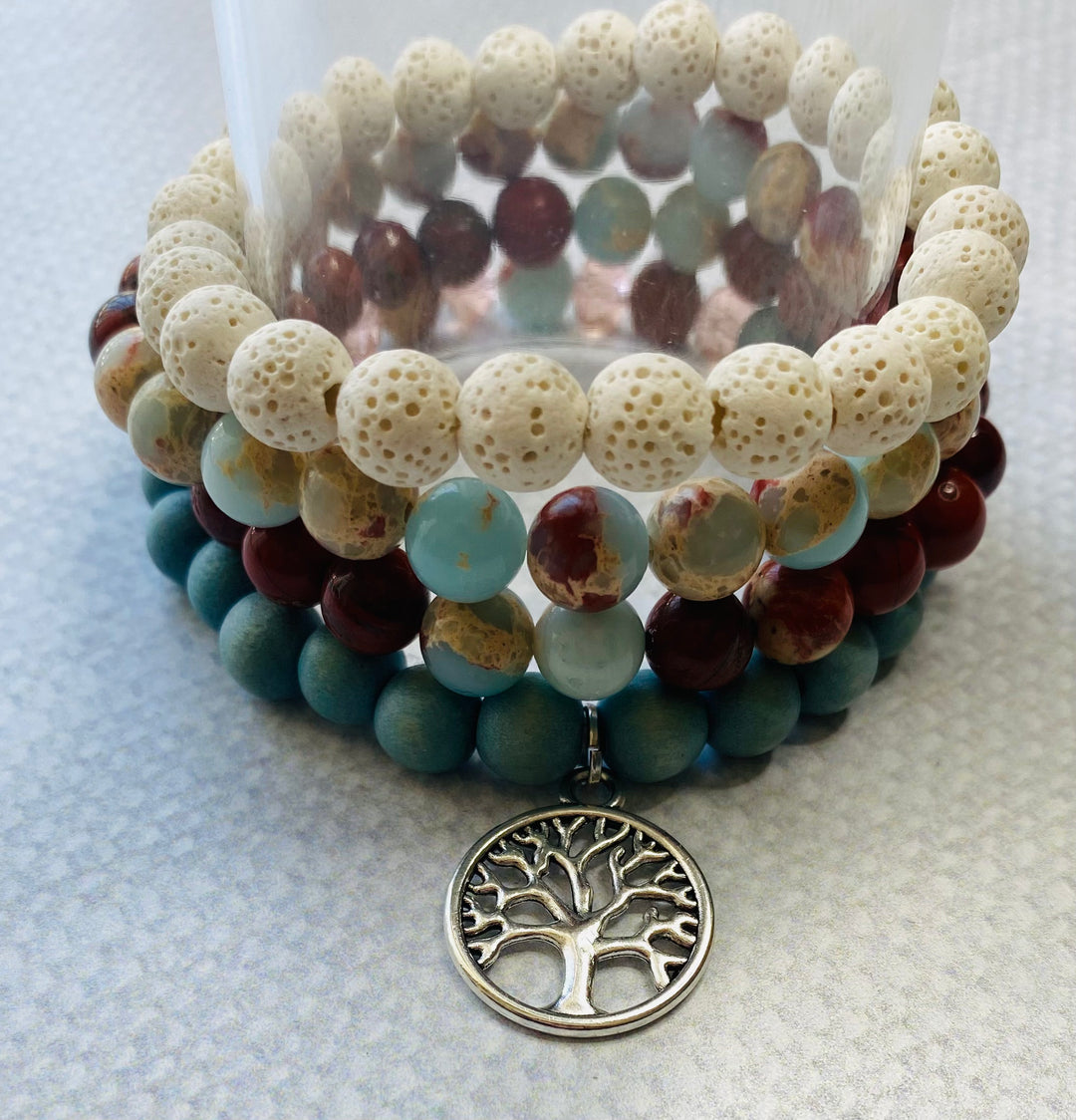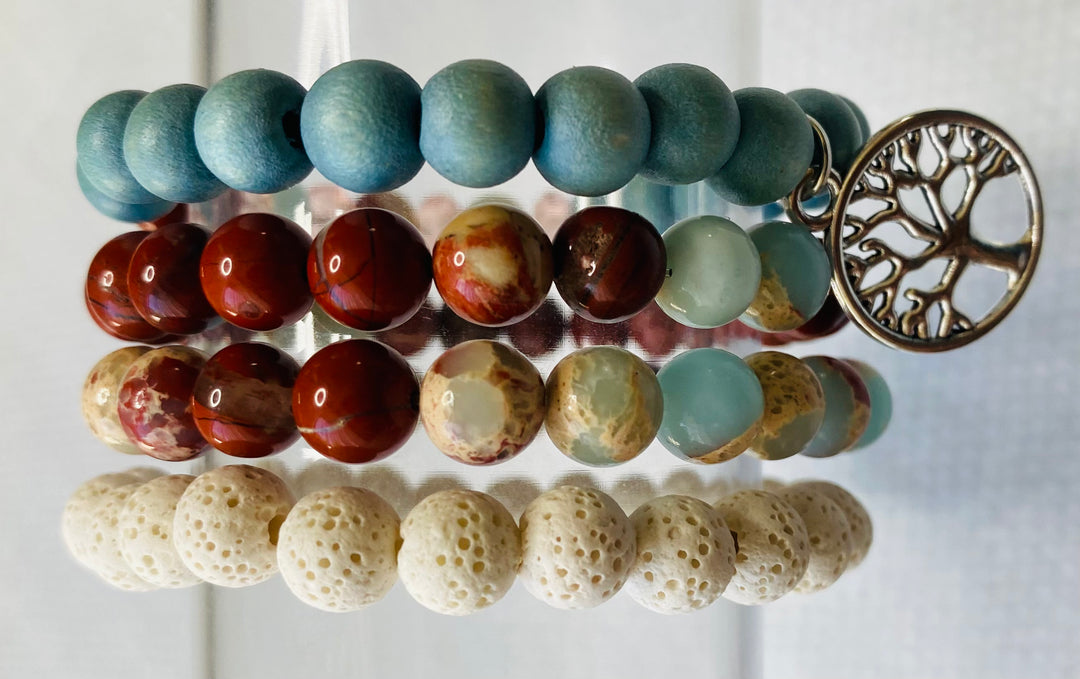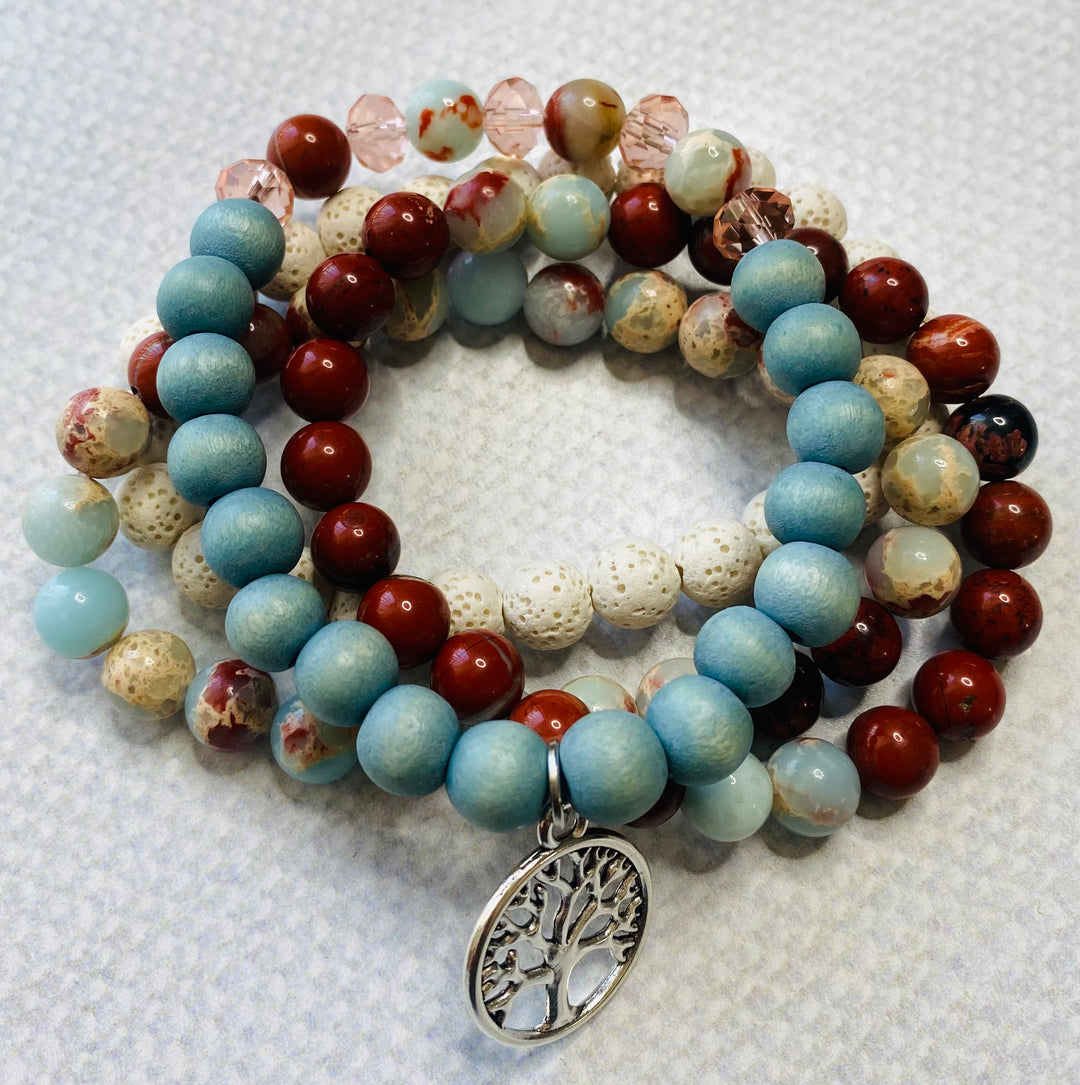 Tree of Life Stack Bracelets
---
Low stock - 1 item left

Inventory on the way
Introducing a charming bracelet stack of 4 that combines the elegance of a silver Tree of Life pendant with the natural beauty of white lava, blue wooden, and glass beads, complemented by the striking tones of Red White Lace Jasper and Blue Snakeskin Jasper. This enchanting stack is a harmonious blend of earthy elements and intricate design, making it a truly special accessory.
The centerpiece of this bracelet is a stunning silver Tree of Life pendant, symbolizing strength, wisdom, and the interconnectedness of all living things. Its intricate branches and roots are meticulously crafted, creating a delicate and eye-catching focal point that draws attention and admiration.

The white lava beads, formed from solidified volcanic rock, possess a unique porous texture that can absorb and diffuse essential oils, making this bracelet a perfect companion for aromatherapy enthusiasts. The glass beads, carefully selected for their smooth and lustrous surface, add a subtle shimmer and enhance the overall aesthetic appeal.

To further elevate the bracelet's allure, the addition of Red White Lace Jasper and Blue Snakeskin Jasper beads introduces a captivating color palette. The Red White Lace Jasper beads exhibit a mesmerizing blend of red, white, and gray hues, resembling intricate patterns reminiscent of lace. This stone is believed to promote tranquility, balance emotions, and enhance creativity.

Complementing the Red White Lace Jasper beads are the Blue Snakeskin Jasper beads, showcasing a fascinating mix of blue and grey tones with unique patterns resembling snakeskin. This stone is associated with grounding energies, promoting a sense of calmness, and encouraging positive transformation.

Each bead in this bracelet is meticulously hand-selected and strung together to ensure a comfortable fit and impeccable design. The combination of these natural materials and captivating gemstones creates a harmonious balance between elegance and earthiness, making this bracelet a versatile and eye-catching accessory for any occasion.

Whether worn as a personal reminder of strength and connection or given as a thoughtful gift to a loved one, this bracelet is a true representation of timeless beauty and meaningful symbolism.

We ship orders within 24-48 business hours, however, it may take longer depending on volume or if you've placed a custom order. We do not offer expedited shipping at this time. A tracking number will be sent to you via email.
LoveWaisted is not responsible for any stolen or lost packages once your order has been shipped. Customers must provide correct information prior to shipment. Customers are responsible for packages upon delivery. Once your package is accepted by USPS, LoveWaisted is no longer responsible for the package. All sales are final. 
We only ship Monday-Friday, excluding holidays. Any orders received after 5:00 pm EST will not start processing until the next business day.
Bracelets are sold individually unless it's a stack. 7.5" fits most wrist comfortably. Please measure your wrist before ordering.  Please be aware that due to the unique and handmade nature of each product, colors, shapes, and bead sizes may vary slightly from the photos and descriptions.