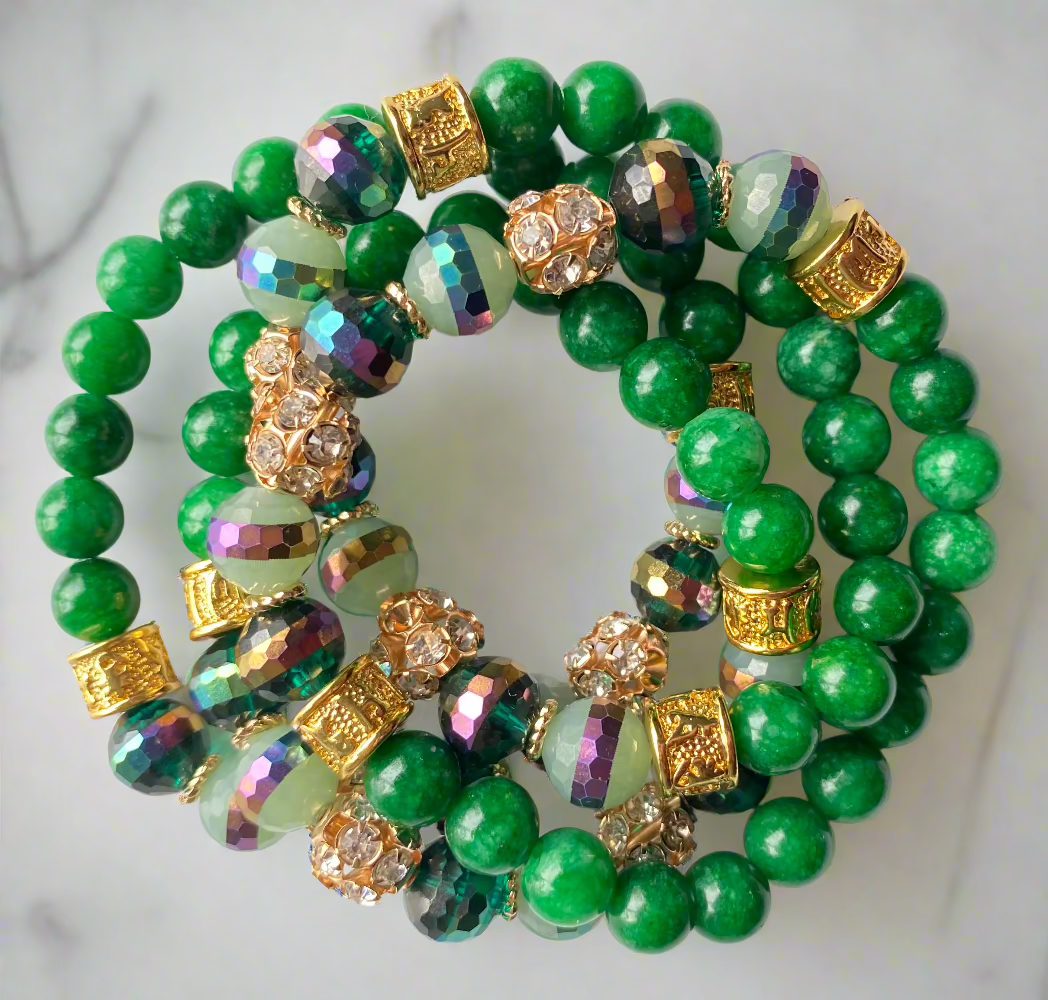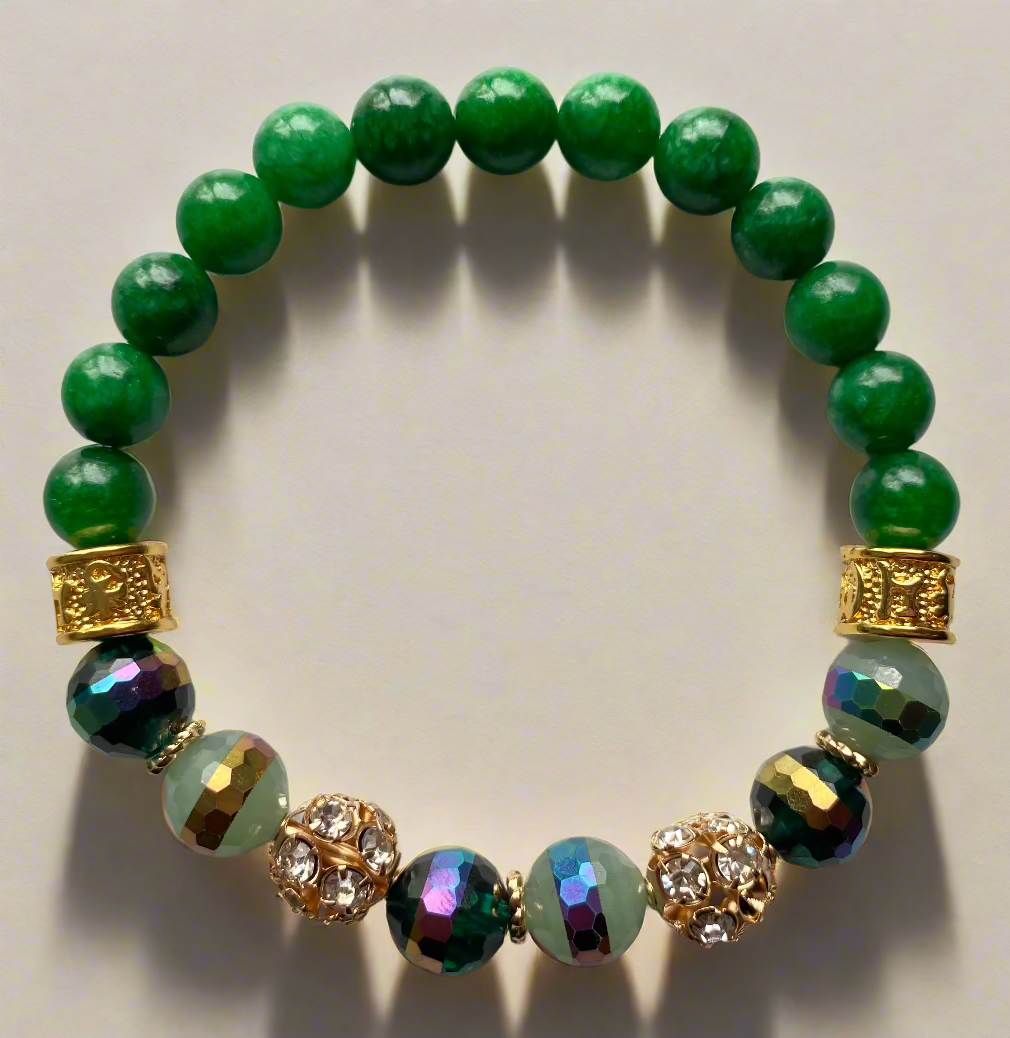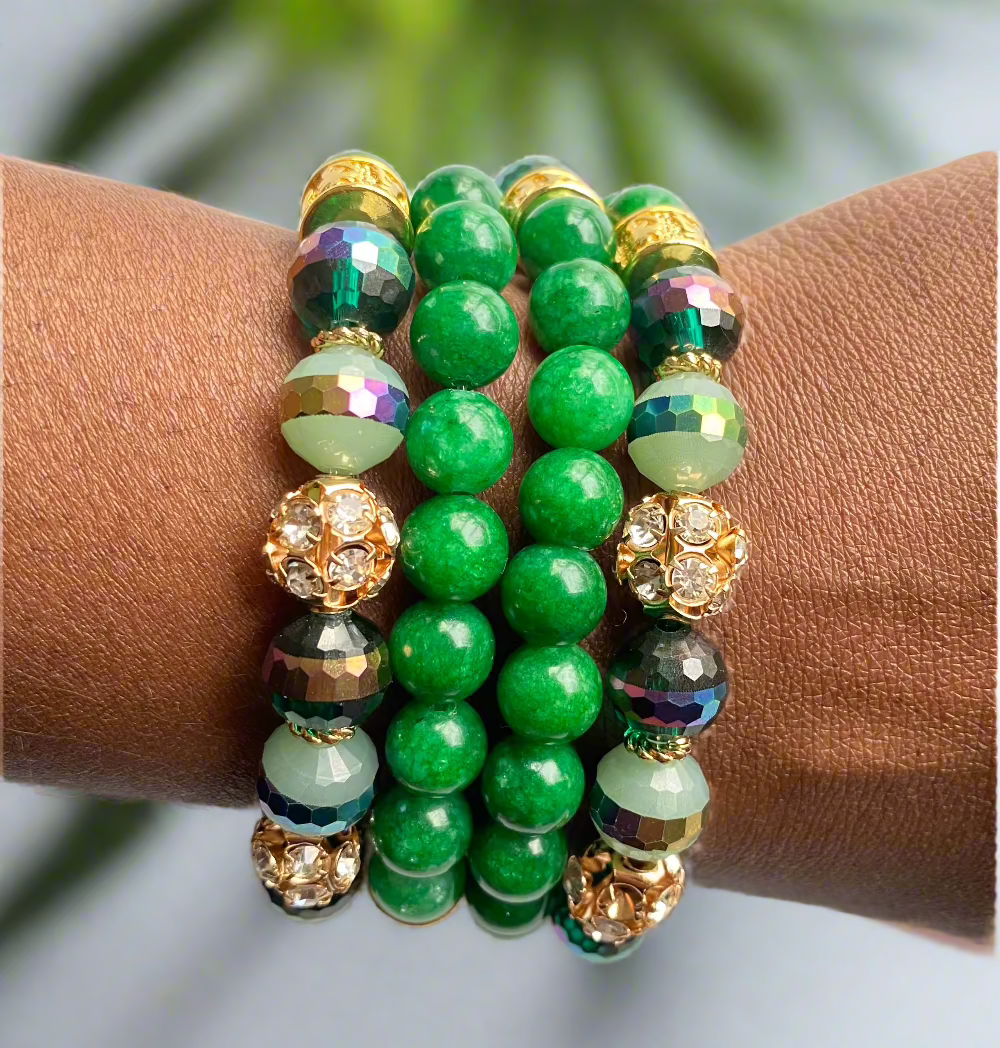 Luck-Beauty-Harmony Bracelet
---
Low stock - 2 items left

Inventory on the way
Look at how seamlessly this bracelet blends the elegance of green agate gemstones with the timeless allure of glass beads and gold accents. This captivating piece of jewelry is a true embodiment of sophistication and style.
The focal point of this bracelet is the stunning green agate gemstone. Known for its mesmerizing hues of green, green agate is believed to possess healing energies and is a protective and safeguarding stone. It rehabilitates balance when we feel eccentric. It is also believed to stimulate good health, luck, beauty, harmony and fertility. Each green agate bead is carefully selected for its rich color and natural variations, ensuring that no two bracelets are exactly alike.

Complementing the green agate gemstones are the glass beads, which add a touch of sparkle and brilliance to the bracelet. These glass beads are masterfully crafted to capture and reflect light, creating a shimmering effect that enhances the overall beauty of the piece.

To add a touch of opulence, the bracelet features gold accents that beautifully contrast with the green agate and glass beads. The golden elements bring a sense of luxury and sophistication, elevating the bracelet to a whole new level of elegance.

The meticulous craftsmanship of this bracelet is evident in its design and construction. Each bead is individually hand-strung and secured to ensure durability and flexibility. The bracelet is thoughtfully designed to comfortably drape around the wrist, providing a perfect fit for any wearer.

This versatile bracelet can effortlessly transition from day to night, making it suitable for any occasion. Whether you're dressing up for a glamorous event or adding a touch of elegance to your everyday ensemble, this bracelet is sure to make a statement.

Embrace the allure of green agate, glass beads, and gold accents with this enchanting bracelet. It is a perfect gift for someone special or a delightful addition to your own jewelry collection. Experience the harmonious blend of nature's beauty and timeless elegance with this extraordinary piece.

We ship orders within 24-48 business hours, however, it may take longer depending on volume or if you've placed a custom order. We do not offer expedited shipping at this time. A tracking number will be sent to you via email.
LoveWaisted is not responsible for any stolen or lost packages once your order has been shipped. Customers must provide correct information prior to shipment. Customers are responsible for packages upon delivery. Once your package is accepted by USPS, LoveWaisted is no longer responsible for the package. All sales are final. 
We only ship Monday-Friday, excluding holidays. Any orders received after 5:00 pm EST will not start processing until the next business day.
Bracelets are sold individually unless it's a stack. 7.5" fits most wrist comfortably. Please measure your wrist before ordering.  Please be aware that due to the unique and handmade nature of each product, colors, shapes, and bead sizes may vary slightly from the photos and descriptions.