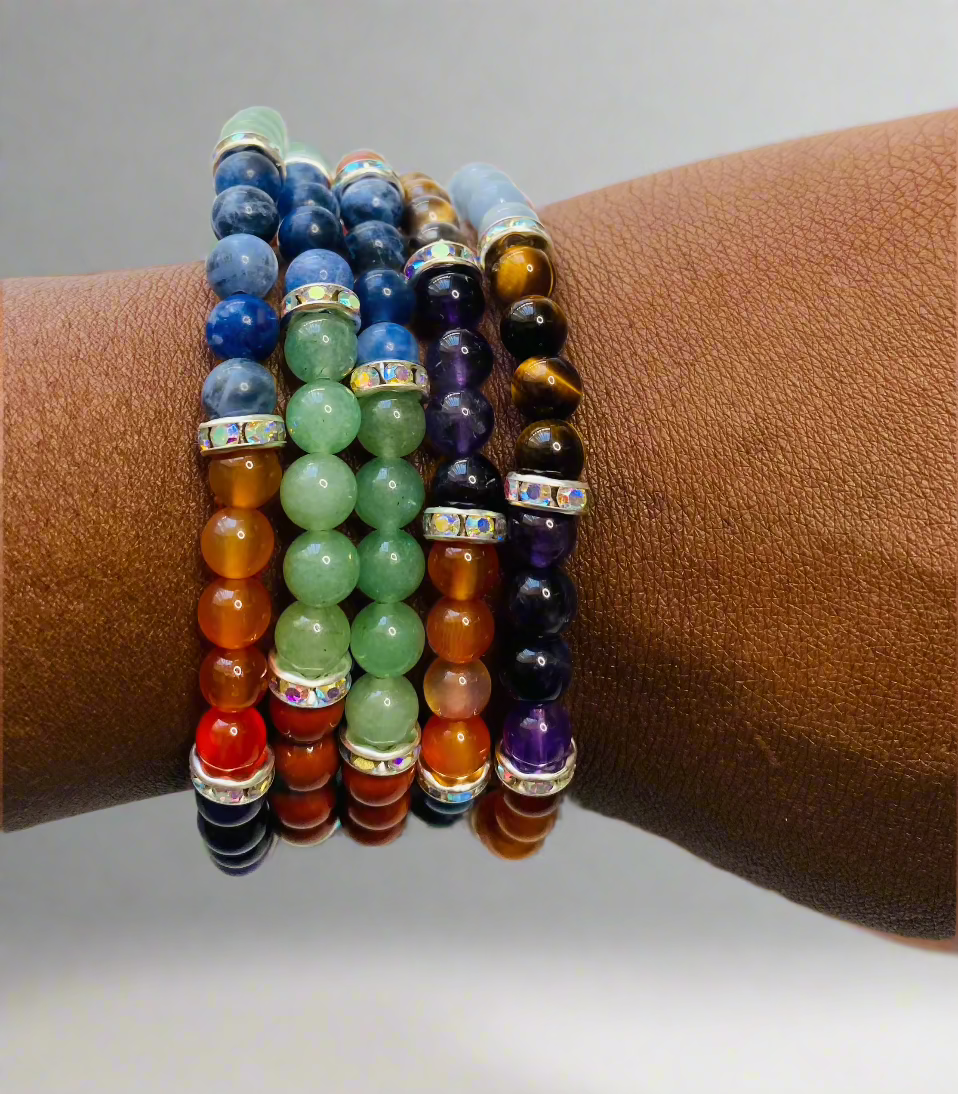 7 Chakras Bracelet
---
Low stock - 1 item left

Inventory on the way
7 Chakras Bracelet is made with 7 different stone beads each representing a different chakra:
Amethyst (purple) is a Crown Chakra gem and this is where we bridge the spiritual and the physical realm. When our crown chakra is open we are able to connect to the messages of the cosmos and find balance, bigger picture thinking, and confidence in our own wisdom.

Angelite (light blue) mostly is known to be aligned with the Third Eye Chakra but can also help with the throat and crown chakras. It is an excellent stone if you need to find calm or to find peace. It aids in overcoming fears, as well as removing any blockages in different spheres of your life.

Carnelian (orange) is for the Sacral Chakra this is where our passion, intimacy, and the inner fire sits. If yours is blocked you may feel that you struggle to connect and that joy almost seems impossible to find. Carnelian awakens your zest for life, letting the energy flow through from the ground to the naval. Carnelian is also connected to our Root and Solar Plexus Chakra.
Green Aventurine(green) is most often associated with the Heart Chakra. This crystal strengthens our connection to Venus, the planet of love and beauty. Making it a powerful ally for those seeking inner peace and harmony in their lives. It helps us open up to unconditional love. Allowing us to be more compassionate and understanding towards ourselves and others.

Red Jasper (red) is associated with the Root Chakra and deals with things like stability, security, and groundedness, red jasper helps you to get grounded and start on a very stable foundation so that you can move forward.

Sodalite(dark blue) is associated with the Throat Chakra,  it helps to boost communication. As it enhances self-esteem and heightens your inner trust, it invites you to stop being afraid to use your voice and to stop second-guessing your own intuition.

Yellow Tiger Eye(brown) vibes with the Solar Plexus. This stone strengthens personal willpower and clarity of intention to allow manifestation at the highest levels.
We ship orders within 24-48 business hours, however, it may take longer depending on volume or if you've placed a custom order. We do not offer expedited shipping at this time. A tracking number will be sent to you via email.
LoveWaisted is not responsible for any stolen or lost packages once your order has been shipped. Customers must provide correct information prior to shipment. Customers are responsible for packages upon delivery. Once your package is accepted by USPS, LoveWaisted is no longer responsible for the package. All sales are final. 
We only ship Monday-Friday, excluding holidays. Any orders received after 5:00 pm EST will not start processing until the next business day.
Bracelets are sold individually unless it's a stack. 7.5" fits most wrist comfortably. Please measure your wrist before ordering.  Please be aware that due to the unique and handmade nature of each product, colors, shapes, and bead sizes may vary slightly from the photos and descriptions.